Today August 19, 2019 we go public with the "Talent Bookings" for season one of "Up Late with Johnny Potenza" an entertainment variety show that will be all entertainment & will have nothing to do with or the mention of politics. All national & local talent welcome from actors, comedians, producers, directors, musicians, solo music acts, original bands, magicians, sport figures, authors, cooking segments, heath segments, ect.
Email: uplatejp+bookings@gmail.com
subject line: bookings. Attach electronic press kit & promo photos, ect. Please note that all submissions will be reviewed & not guaranteed a spot on the shows season 1 but if approved for a spot you will be on our standy list. Please don't leave comments or inbox me about bookings, that's what the email is for.
Good luck to all & thank you.
Best @johnnypotenzaofficial
#talent #actors #comedians #producers #johnheiserjr #netflix #directors#musicacts #bands #magicians #sportfigures #teddyatlas #cooking#jocavallophotos #health #imdb
Coming in the late fall of 2019 the production of "Up Late with Johnny Potenza" a entertainment variety show.
Photo By Jo Cavallo
June 27, 2019 Hello my family & friends, Just updating all on our next move, today me & my producer John Heiser were invited to be guest on the "Mornin" show. Check it out on Compound Media.
Back stage at Back stage at the "The Dr Oz Show"
Introducing my new producer John Heiser for the new production of "Up Late with Johnny Potenza", John Heiser Jr. has been working in the television industry for the last 25 years & is a big part of the new show.
April 19, 2019 Hello to our family & friends, Wishing everyone a Happy Easter & holiday weekend. We posted that we are looking for comedy sketch writers for our new production of "Up Late with Johnny Potenza" if interested please email us at johnnyptv@yahoo.com, subject line "Comedy Stetch Writers". We will keep you all updated on future updates. Best Johnny P
March 20, 2019
Hello all,
Hope everybody is doing well. It's time to go public & let everyone know that I will be back in action with our new production of "Up Late with Johnny Potenza" in the fall of 2019 produced by John Heiser Jr. I just want to say a special thank you from the heart to all my family & friend's who were there for me & the family during our devastating time from the loss of our Michele. I'm blessed to have you all in my life. Michele will be forever in my heart & in yours, she would want me to pick myself up, accomplish my dreams & take this to the big time so here we go. We will keep you posted.
Thank you & much love
Johnny P
#entertainmentvarietyshow #actors #comedians #producers #musicians#alltalent #imdb #latenightwithjohnnyp #johnnypotenza #micheledivitto #johnheiser

HONORED TO BE PART OF THE NEW BOOK:
STATEN ISLAND-LIKE IT OR NOT. ON SALE AT AMAZON ©2019
Happy 2019 New Year to my family & friends, Just wanted to say hello & let everyone know I'm hanging in there day by day. 2018 was a devastating year for me & the family with the loss of my fianc'e Michele & praying that 2019 will be a better year. I will be posting news this spring on the up & coming new production of "Up Late with Johnny Potenza". There is no start up date as of now but we are looking at the fall of 2019. This past year I have been praticing & playing my drums a lot again getting back to where it all started. In the meantime, if your not all ready subscribed please show your support & subscribe to one our 3 Youtube channels or all, also log on to vimeo.com & subscribe to that as well, it is all free. Thank you & talk to you all soon. Best Johnny P
Hello to all my family & friends, Just wanted to thank everyone for all for your love & support during these hard times with the passing of my fianc'e Michele Divitto who passed away October 15, 2018 from stage 4 breast cancer. This has been a very heartbreaking year for myself, the family & all those who loved Michele. One thing I learned from this tragedy is that life is so short & we have to make the best of everyday with the ones we love because you never know when the last time you will see them. I would give my left arm to have Michele here with us today but God called upon his angel to come back to heaven. That being said I wish you all the very best of the holiday season & a safe happy new year. I will keep everyone updated 2019 whats next for Johnny P & the new production of "Up Late with Johnny Potenza" Best Always Johnny
My family & friends,
I'm writing with the heavyest heart I ever had to carry. I needed to let you all know that my fiance who is the love of my life & my best friend has passed away early this afernoon after a 5 year battle with breast cancer. Speaking for myself & our family we are devastated & heartbroken over the loss of Michele who was a one of a kind woman with the biggest & most honest heart out of any woman we ever knew. Anyone who had the pleasure of having Michele as a family member or friend knew she was a special woman. We will miss her more than words will say.
Untill we met again my sweet bear, I will carry you in my heart forever.
Love Always Johnny
Sept, 2018-Hello all my family & friends,
Hope all is well. Just updating everyone on what's next. There is no set date yet as of now when we start up the new show, all is I can say is that I'm working hard behind the scenes putting together a new production crew & working on ideas for the new show "Up Late with Johnny Potenza", coming sometime in 2019. We will keep you all updated as time goes on. Stay cool! Best Always Johnny Potenza #entertainmentvarietyshow #imdb #actors#comedians #productioncrew #producers #musicians #alltalent@johnnypotenzaofficial
Covering the Kreischer Mansion summer concerts on Staten Island August 4, 2018 presented by Rick Risp Productions. Great event & all the bands sounded great. We didn't get to do a lot of interviews do to the heat it was 90 degrees hot & humid. CTV's own Terry Converse filmed most of the event & will be airing on public access tv in the fall of 2018. All involved in the photo below (L-R) Tony Hanson of Fenix Studio's, Johnny P, Rick Risp Productions & Brian owner of the Kreisher Mansion.
Rick Rick Productions is back this summer with live music starting August 4, 2018 at the Kreisecher Mansion 4500 Arthur Kill Road Staten Island. Gates open at 12pm-9pm. CTV-Staten Island Community Television will be filming the event & for a favor to my dear friend Rick Rispoli, I will be doing on location interviews with the talent & public. Checkout the great lineup of bands as Never Say Die, The Flatpickers plus many more, all info is on the flyer below. Special appearence by comedian Craig Loydgren. Hope to see all our family & friends there. Best Johnny P
@johnnypotenzaoffical #rickrispoli #johnbrullo #davidflynn #uplatewithjohnnypotenza #statenisland #ctv #nybnoneofyourbusiness #fenstudios
On July 12 & 13 I had the pleasure of working on the film "Made in Chinatown" with actor, comedian Tony Darrow & actor, director Paul Borghese in 3 scenes. A lot of great actors were in the film & some are friends of mine & were on my Late Night with Johnny P Show such as Artie Pasquale, Tony Ray Rossi, my Uncle Vincent Pastore, Goumba Johnny Sialiano, Paul Borghese, Tony Ray Rossi, Jeff "Fat Rat Bastard & new friends John Deblasio, Angelo Lutz & John Tarangelo. Special thank you to writer Mark Wiley for the opportunity to work on the film. #madeinchinatown
Hello family & friends, I'm checking in with everyone to let you all know that I'm enjoying my time off from the show just chilling, relaxing & working behind the scenes in the entertainment business. On June 21, 2018 I was honored to be presented with "The King's of Staten Island" award at the Richmond County Country Club. That was a great night that I shared with family & friends.
It's official that my new show will start taping in January 2019. I'm in pre-production with my music producer & dear friend Richie Scarlet for our future recordings. Richie Scarlet is currently playing in the Ace Frehley Band, Ace is the original guitarist of the legendary rock band KISS & rock n' roll hall of famer. Richie Scarlet also produced my former band NYB "None of Your Business". One of the songs we will be recording is the new opening theme song for my new late night show "Up Late with Johnny Potenza", I'm looking to get the sound of the old school big band era of Benny Goodman, Buddy Rich meets the funk rock sound of todays genre. I will havesome top players on the recordings. I'm also writing with my pal Mark Montague from the Peter Criss Band, Five for Fighting & solo artist. Mark also wrote & recorded with NYB, also my good friend recording engineer & my sound engineer for the Late Night with Johnny P Show Frankie D'Augusta. Frankie is best known for engineering "Frampton Comes Alive" & the list goes on. All I can say now is that some members of NYB & my late night band Killer Joe & the lido soul revue will be on the recording as well. Still trying to coordinate the players & recording sessions, we will keep you all posted. Best Johnny P July 2018
"Up Late with Johnny Potenza"
Coming sometime in the near future......
Photo by Jo Cavallo ©2018 Potenza Entertainment.
NEW writeup on SIlive.com Jan.15, 2018. A fresh take on 'Late Night With Johnny P' in store for 2018. Special thankyou to our #1 reporter at The Staten Island Advance Carol Ann Benanti. Thankyou for all the years of support.
Happy New Year 2018 to all our family & friends. Our series finale will start airing the 4th week on January 2018, we will keep you posted. Thankyou all to all the years of support, be back in production Fall 2018 with my new show "Up Late With Johnny Potenza"
The Late Night With Johnny P Show Welcomes Ace Frehley (Original Kiss Guitarist) to the St.George Theatre Feb.2, 2018, also playing side by side with Ace our good friend Richie Scarlet! Tickets on sale at the St. George Theatre Box Offcie or Ticketmaster. @johnnypotenzaofficial
The Late Night With Johnny P Christmas Show on Fios Verison & Spectrum Cable TV, also online on Vimeo.com (watch it right here on the website on the link below) Special Guest Comedian, Radio Pesonality Goumba Johnny Sialiano, Miss USA International 2017 Stephanie Ellen Almelda, Comedian Jeff "Fatratbastard" Pirrami & Hip Hop Artist P-Kash. johnnyptv.com @johnnypotenzaofficial
Checkout Decembers issue of TalentRaters Magazine 2 page writeup on The Late Night With Johnny P Show. Order your copy on talentraters.com! Promo below is a Blog for the magazine, the full writeup is in the TR Magazine on left of the blog. Please suppport this magazine, it's the future for your local & national talent This months issue has New Yorks own actor Vinny Vella on the cover!
Hello all, hope your all getting ready for the holiday. Enjoy it as much as you can with your family & friends we only get it once a year! Our pre-recorded Series Finale will air the 4th week of January 2018, we will keep you all posted. Happy Holidays & Merry Christmas, Best Always Johnny P
Free Late Night With Johnny P collectable "Friendship Lights" for all our guest & studio audience at the series finale show.
Had a great time working on Martin Scorsese's new film "The Irishman" Starring Robert Deniro, Al Pacino, Joe Pesci, Ray Ramono, Katherine Narducci & many other great actors & talent. I want to say a special thankyou to Ellen Lewis & her amazing staff. Have a great holiday season & God Bless.
Late Night With Johnny P Show Flashback with the one & only actor William Forsythe for a one on one sit down interview on his past & present life as an actor in the entertainment business. Live Feb.26, 2015 @Staten Island Community Television.
Johnny P on drums with Killer Joe & The Late Night Band with special guest Nick Ferraro "The Philly Elvis" live on Late Night With Johnny P August 9, 2017.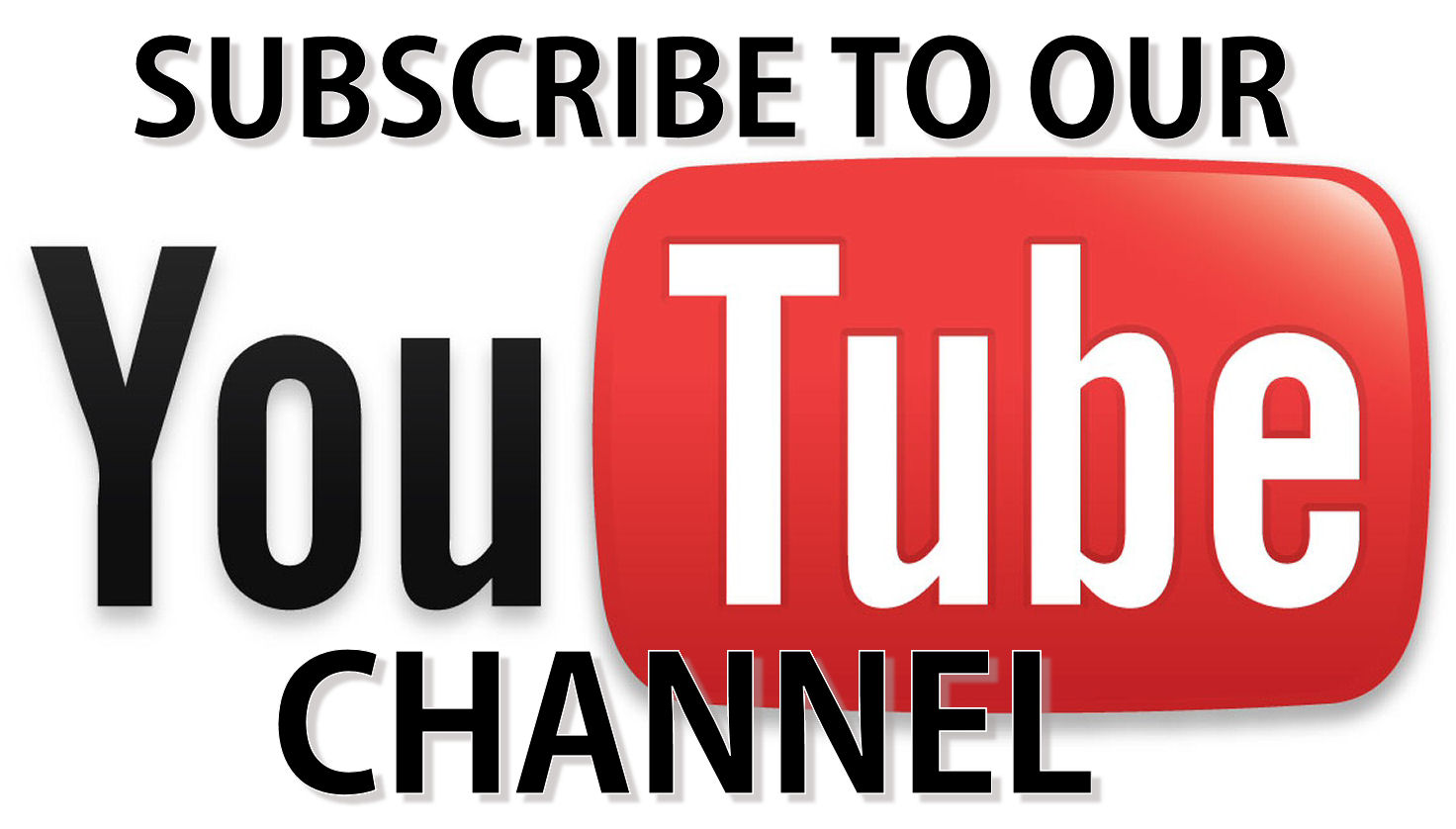 Checkout & Subscribe to our two You Tube Channels for The Late Night Johnny P Show. Featuring the best of local & national talent from seasons 1 to 10. Special thankyou to all the comedians, actors, producers, authors, magicians, bands & all the musicial guest, ect., that appeared & performed on my show. Without your talent & support I wouldn't have a show. Thankyou & God Bless Johnny P
Somehow it feels "right" that jack-of-all-trades Johnny Potenza grew up the son of a firefighter-slash-old-time plasterer. After all, this Brooklyn-born and Staten Island- raised Renaissance Man has spent his life pursuing multiple paths, too, logging time as a musician, a TV producer and an on-camera performer. And, as if that wasn't enough, along the way he carried on the family tradition of plastering – as his on-again, off-again "survival" job. Indeed, Johnny Potenza is nothing if not a survivor.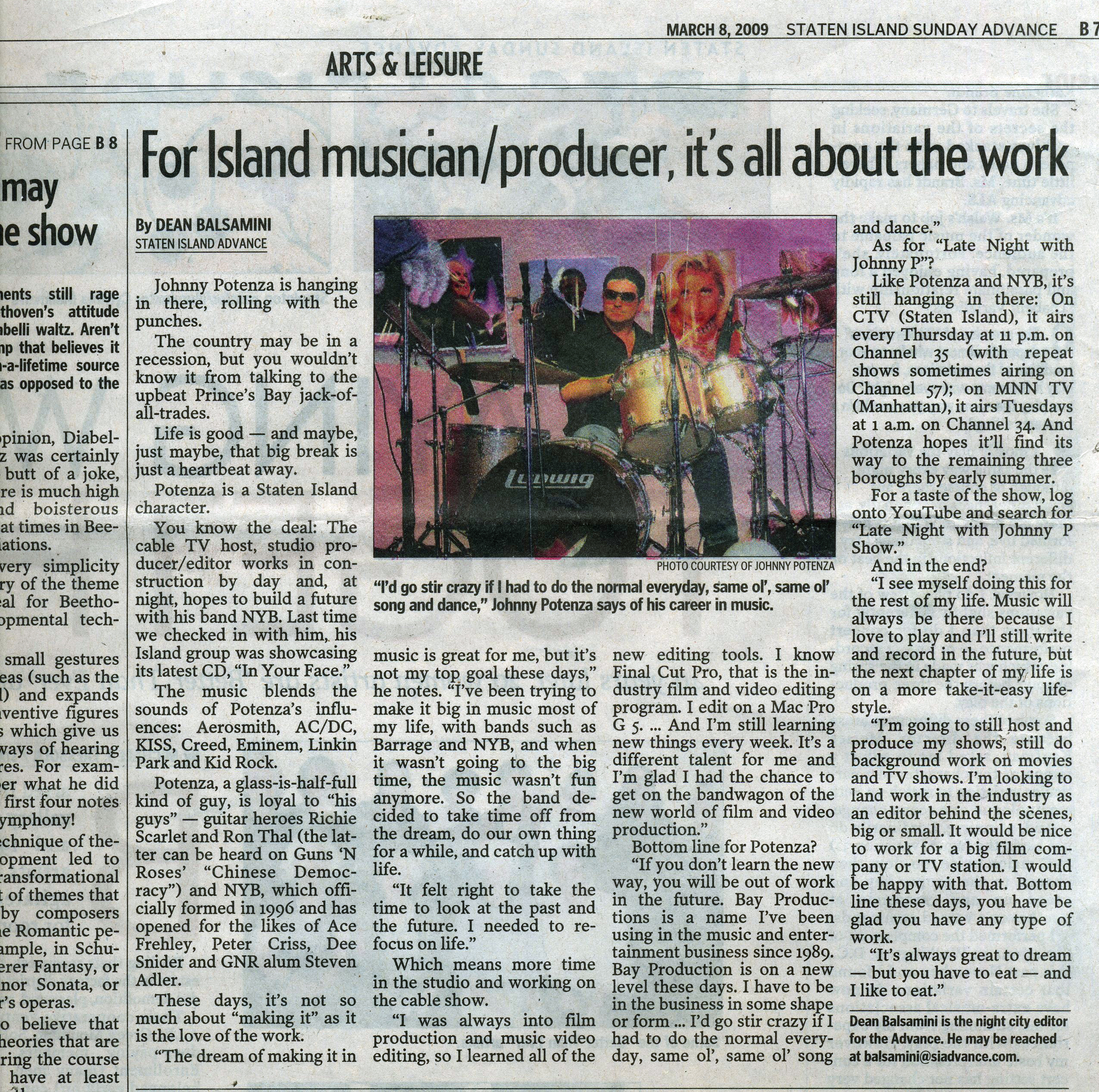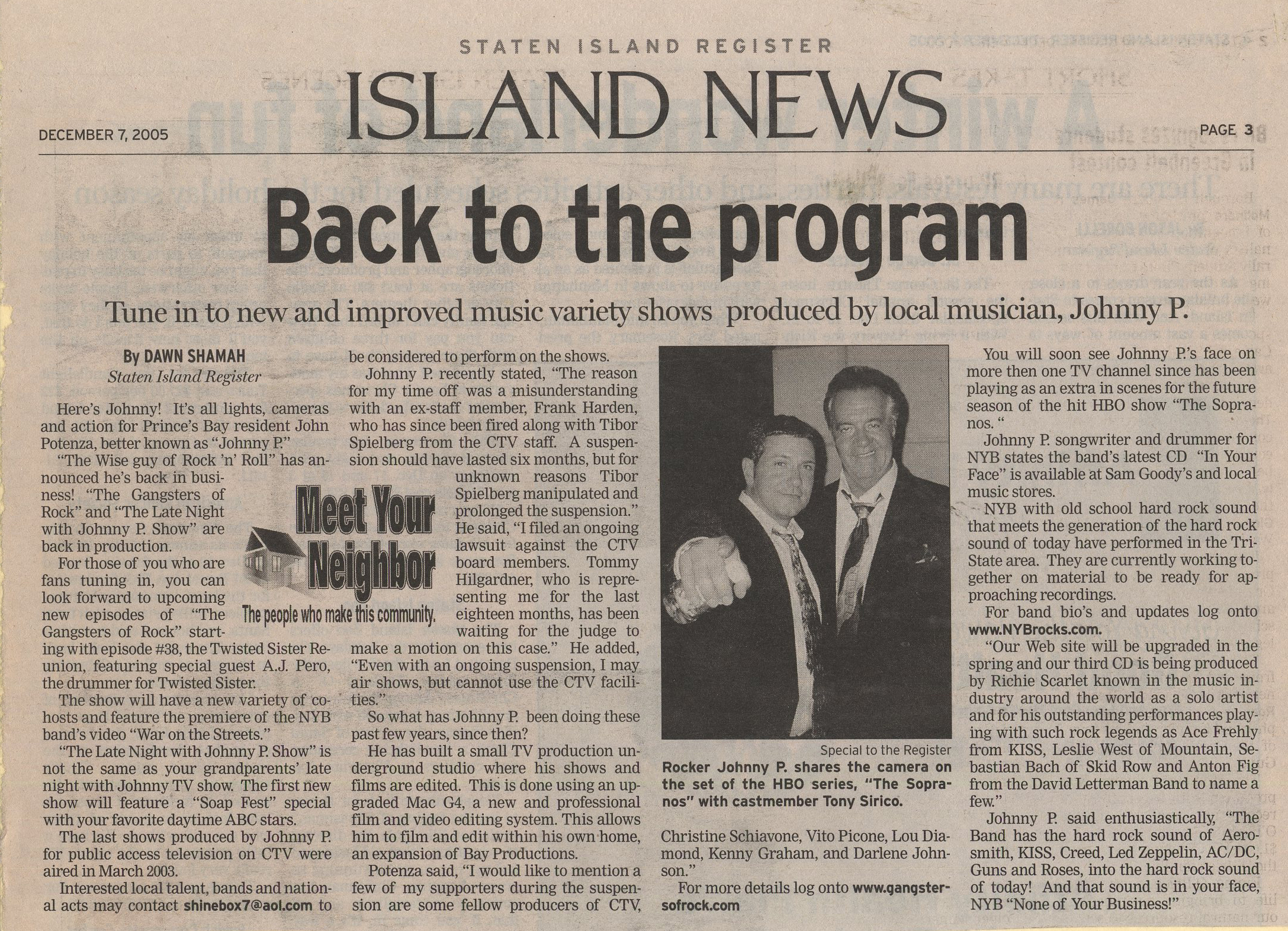 Late Night with Johnny P Theme song by NYB